Rest in Peace Chadwick Boseman, who was to depict the character in the now cancelled film adaptation
I've seen a fair amount of disorganized tv-shows, and as much as I can't help but appreciate the post-modern themes of 'Darling in the Franxx', the second half of the series is certainly not structured in any comprehensible way. To be as vague as possible, it is as if the show threw in a second season of content into the three last episodes of the series, and the takeaway essentially is that the 'End of Evangelion' finale is not even comparable to the amount of existential dread coming from this series, while also not being able to comprehend what the fuck even was happening or what I was supposed to make of it. The point of this segment is basically that 'Yasuke' is like that, but for an entire tv-show. 
I didn't have much prior experience with the staff of the series, the only exception being Stanfield who I was a pretty big fan of after his performance in 'Sorry to Bother You' and 'Judas and the Black Messiah' (and still am for the record, I would like to think this series isn't representative of the quality the staff can produce), but it was pretty hard to not be confident in its supposed historical allure. A black samurai in feudal japan was certainly compelling and could serve as a basis for some interesting critique of Japan's still conservative views of foreigners. And if 'Pan's Labyrinth' has taught me anything, a fantastical depiction of real events is not necessarily one to be skeptical of.
Anyway, 'Yasuke', from the creator of the 'Black Dynamite' and 'The Boondocks' series, LeSean Thomas, with composition from Flying Lotus, follows a non-linear story of Yasuke's rise to success and trauma of the past, who is tasked, after years of tranquility, to deliver a mysterious child to a distant doctor to 'save her from the magical forces that are controlling her'. The series goes back and forth between the historically focused (I have no idea if they are based upon recorded history) background of Yasuke's character and his present that is structured behind a 'monster of the day' format, being targetted by magical minions sent by the spider demon who seems interested in the powers that the little girl possess. If you got whiplash from reading that then I did my job.
Spoilers ahead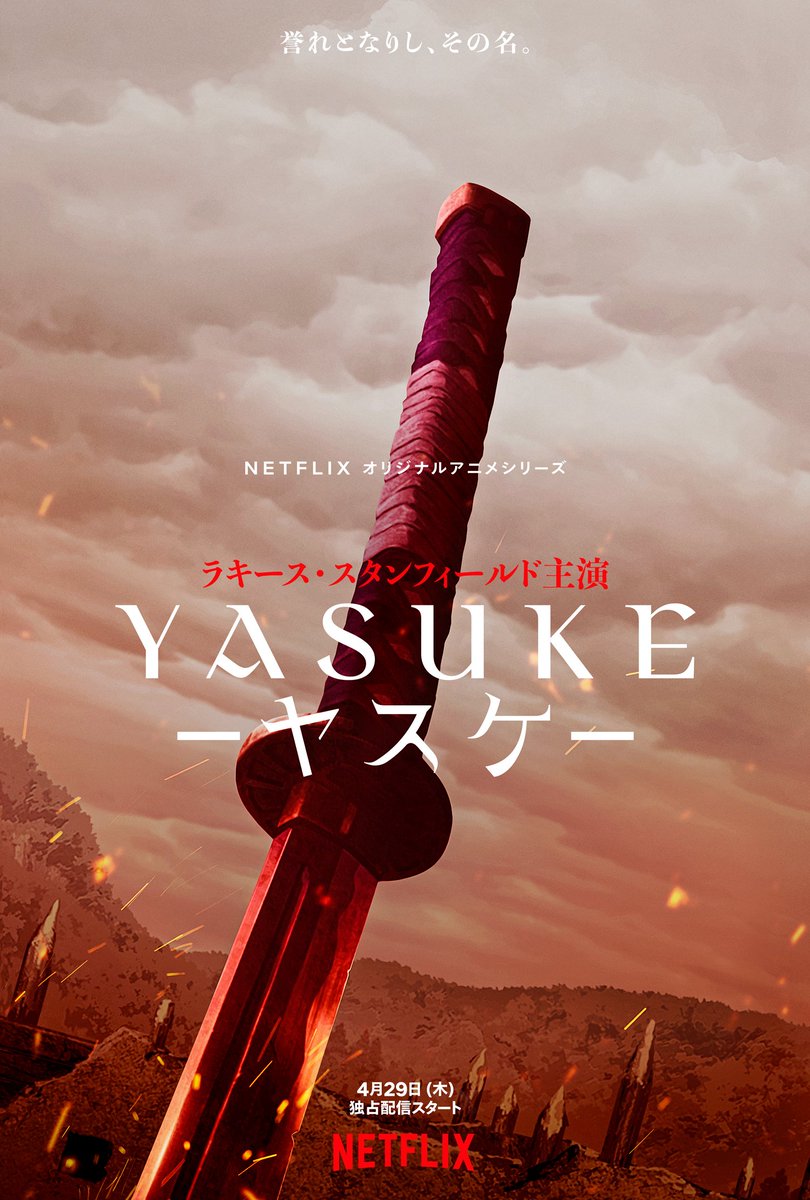 From the moment the series starts with a big purple CGI-looking fight, it's already clear what this would be, nonetheless, I was surprised, to say the least. Although the historical bits have a level of interest to them, with a more grounded and versatile structure, albeit rushed as to not take too much space, they are interrupted and quickly replaced with a magical narrative that tries to incorporate itself into Yasuke's backstory but fails without recognizing that the two portions have entirely different tones if not genres. Most of the series focuses on comedically villainous antagonists that fail to make an impact on the narrative of the series or on my experience for that matter, and largely depends on the relationship between an indifferent Lakeith Stanfield and an annoying 12-year old (same thing but whatever), which if my description wasn't loaded enough, didn't do much for me. The series is at its most excessive when the 12-year old symbolically break out of her cocoon, kills the bad guy, and tries to conclude a theme of change, after what I can only guess knowing that the character has been pretty agentive throughout the entire series only really pretending to be "sick" when the narrative sees fit.
If there was anything to save its overconfidence, then the presentation being consistent with the few action scenes the series was largely advertised with would've at least measured up to the excitement I could imagine many have when a series is produced by Mappa that are at this point pretty famous for its presentation. Well, unfortunately, companies aren't the ones making the products you use, as much as billionaires would like you to believe, it is their workers (that they barely pay). And although I would point to the fairly impressive choreography of action scenes especially earlier in the series, I don't really feel like it when a larger majority of the conflict is made through fantastical fluff that lacks a real sense of pacing. The color design is especially obnoxious, having a very saturated color palette without any real contrast around the end of the series, otherwise being completely noteworthy. If there was any injustice on my part, it would be watching Samurai Champloo right before this, which, although not masterful, was a much better execution of combining samurais with a modern genre. The fantastical aspects of the series feel severely underdeveloped and unfitting and would've fit better with a more cyberpunk presentation, and that's even ignoring how that's obviously the direction Flying Lotus was given when composing the surprisingly great score for the series. 
If there's anything to take away from this review, I would say 'Yasuke' suffers greatly under tonal inconsistency in many departments could've worked better if they pursued the same goal. The opening for the series remains a really good intro because there's a vibe that isn't constantly obstructed, as much as some of the writing can take you out of it. That and go play 'Katana Zero', it's a great cyber samurai game and it's the only time I will be able to mention it, soo so good.
Strong 3/10